Branson Transducerized Cleaning Tanks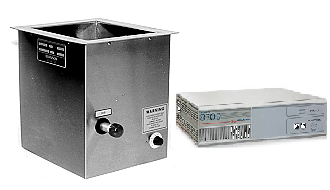 We offer standard size transducerized 25 and 40kHz tanks that range from a 2.5 to a 50 gallon capacity (10 to 190 liters). All have drains and fills. These units are powered by a separate generator component.
Type 316L bright-annealed stainless steel construction throughout permits the use of alkaline, mildly acidic, or neutral aqueous solutions. Branson tanks are available with or without integral heaters. Heated models are available to maintain solution temperatures up to 170o F (76o C). All models are available with a stainless steel parts basket and/or tank cover.
Standard Features:
Bottom-mounted positive drain connection.
Fully shielded internal components.
Optional Features:
Stainless steel basket for parts handling.
Stainless steel tank cover.
Thermostatically-controlled heat.
See our brochure for sizes and configurations.